Fresh Fruit and Vegetable Program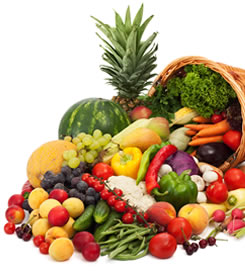 Make at least half of your plate Fruits and Vegetables!
The RGCCISD Child Nutrition Program currently has two campuses that have been selected to participate in the USDA Fresh Fruit & Vegetable Program - John & Olive Hinojosa & La Union Elementary. The purpose of the program is to increase fresh fruit and vegetable consumption in elementary schools and it has proven successful in introducing students to a variety of produce that they otherwise might not have had the opportunity to sample.

Campuses participating in the program serve students samples of fruits and vegetables a minimum of three days per week during a designated period but not during breakfast or lunch. Students have the opportunity to sample products and discuss the benefits of such items with the campus staff.
Eating a diet rich in fruits and vegetables will help to keep you healthy in so many ways. Try and choose more vegetables and fruits at home. Go for color and variety—dark green, yellow, orange, and red.

School meals include fruits and vegetables with every serving and most people should aim for at least nine servings (at least 4½ cups) of vegetables and fruits a day, and potatoes don't count. Go for a variety of types and colors of produce, to give your body the mix of nutrients it needs. Some of the best choices are dark leafy greens, cooked tomatoes, and anything that's a rich yellow, orange, or red color.
Most fruits and vegetables are naturally low in fat, sodium and calories, and none have cholesterol. Fruits and vegetables are important sources of many nutrients, including potassium, dietary fiber, folate, vitamin A, and vitamin C. The health benefits of a diet rich in vegetables and fruits is clear: they help to reduce risk for heart disease, they may help to protect against certain types of cancers, reduce the risk of obesity, and type 2 diabetes.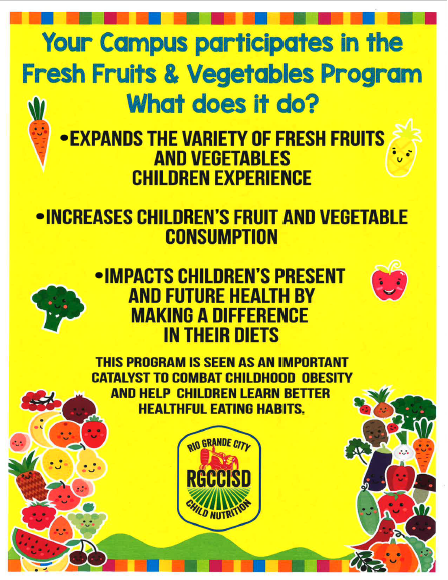 Welcome back, we missed you!
Coming August & September 2020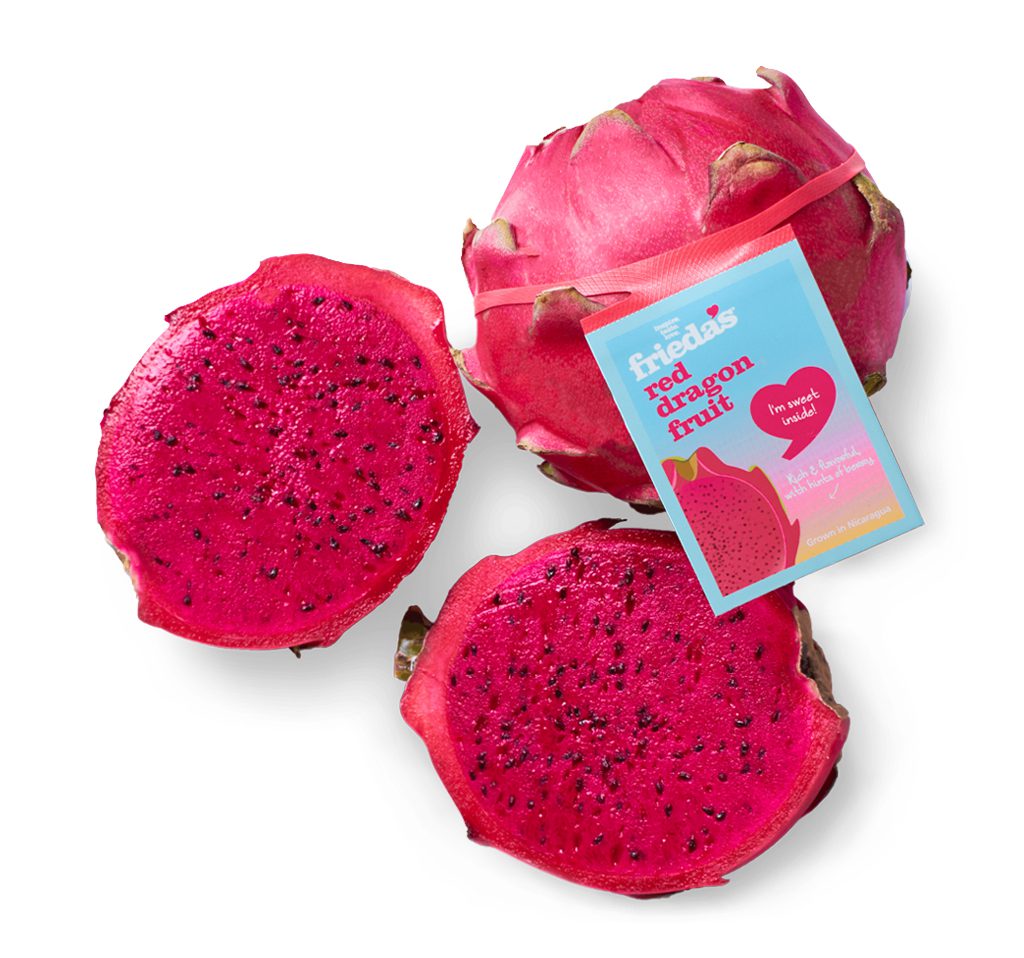 red dragon fruit
Red Dragon Fruit, also known as Pitaya, is a beautiful tropical fruit in the cactus family with bright magenta flesh speckled with small, edible seeds. The flavor is sweet with an earthy note. The texture of dragon fruit is often compared to kiwifruit. Nicaraguan Dragon Fruit is grown in the rich volcanic soil; the fruit is more flavorful and sweet than the white flesh variety. It is round with small "leaves." Israel Red Pitaya is smaller and looks different than its other cousins––like a giant pink pine cone! It's also sweet and juicy. USA Red Dragon Fruit looks a lot like the white-flesh one. Make sure to check the label! Excellent source of vitamin C. A low-FODMAP fruit.
Blueberries
Blueberries can be eaten freshly picked or incorporated into a variety of recipes. They can also be purchased frozen.
Blueberries contain a plant compound called anthocyanin. This gives blueberries both their blue color and many of their health benefits.
Blueberries can help heart health, bone strength, skin health, blood pressure, diabetes management, cancer prevention, and mental health.
One cup of blueberries provides 24 percent of a person recommended daily allowance of vitamin C.
Use blueberries to top waffles, pancakes, yogurt, oatmeal, or cereal, blend them in a smoothie or syrup, or fold them into muffins and sweet breads.
People who use blood-thinners, such as warfarin, should speak to their doctor before increasing their intake of blueberries, as the high vitamin K content can affect blood clotting.
Additional program information:
Bright Kids/Bright School English & Spanish
Farm to School - Produce Availability